Start Your Reiki Journey Here
Reiki is a system of intentionally directing universal life force energy. Like gravity or air, life force energy is around us all of the time. Through this healing method, we can access that life force energy, known by various names, including chi and ki, and channel it to where we would like it to go.

​Reiki can help:

Decrease anxiety
Relieve pain
Increase energy
Treat depression
Improve sleep
Create calm and relaxation
Deepen spiritual and personal development

Christian explaining, "What is Reiki?"

Get the full recording of this workshop

here

.
This is only a short list of Reiki's benefits, and it is used in top hospitals across the US, including Johns Hopkins, Yale, and Duke as a complement to medical care.

At its core, Reiki is a self-healing method. We can use Reiki to direct life force energy to ourselves to help us heal physically and emotionally, grow spiritually, and blossom more fully. This journey is ever unfolding, and Reiki is here to support you in that blossoming.

Are you ready heal, grow, and blossom? Are you ready to start your Reiki journey?
This is about you...
Reiki Level 1 in the original Usui Reiki system is all about you. At this first level, we focus first and foremost on ourselves and our own healing. We learn how to access that healing and channel it to ourselves. You already have access to Reiki. We all do. The ki is all around us and flowing through us. But following a Reiki path opens up deeper levels of access to ki, helps us to tap more fully into what is already ours, and encourages us to open up and remember our birthright.

Like the flower naturally opens to the sun, its birthright, are you ready to open to yours?
In Reiki 1, you are "attuned" to Reiki and learn how to direct universal life force energy to yourself for your own growth and healing. Want to sleep better? Relieve stress? Improve your mood? Decrease pain? Deepen your experience and grow? This is all possible with Reiki. Start your journey here.
Reiki 1 starts May 7th!
It's time to bloom...
You're a spiritual seeker. Maybe you're already into meditation, crystals, yoga, or sound healing. Maybe you've been exploring, growing, and expanding. Or maybe you're just tired of being in pain, feeling stuck, or being tired. But you know something deeper exists. You know there's a life of greater awareness, meaning, and connection. You want to heal, grow, and blossom. But you just haven't found "the thing" yet...the modality or way of doing or being that deepens your experience.

Reiki could be "the thing."

Reiki's potential is unlimited. It can expand your awareness, deepen your experience, increase your intuition. It helps us to heal on physical, mental, and emotional levels. It can remove pain, get us unstuck, and increase our energy. It can open up doorways to greater compassion, less judgment, and more love. Yes, all of this is possible with Reiki. ​
Reiki Level I Training with Christian
Reiki I is the most important Reiki level because it is the foundation of your Reiki journey. It's also the most important because it focuses on yourself.
Reiki I is typically taught as a 1-day 6 hour workshop focusing on the basics of energy healing, Reiki's history, and how to give yourself Reiki, along with the attunements to do so. And usually...that's it. You're attuned and sent on your way.
But the Reiki I experience can bring up all kinds of feelings, experiences, and questions. For many, Reiki I attunement is a profound experience, and sometimes, depending upon the program or Teacher, you don't have support for the unexpected changes that can happen.
You deserve a Reiki I experience that honors you, supports you, and encourages your blossoming. And you deserve to have your questions answered and feelings honored. You deserve the support and commitment of a dedicated Teacher.
​
You deserve a solid foundation, and you deserve to blossom in nurturing soil.
Reiki Level I with Christian Includes:
May 7th, 1:00 PM EST-3:00 PM EST/11:00 AM PST/6:00 PM GMT
Distant Reiki Healing Ceremony: Begin your Reiki Journey by experiencing Reiki in this powerful ceremony to set intention, step onto the Reiki path, and begin to open. Includes discussion, course overview, and techniques to help you grow and bloom. Receive training videos and manual.

May 8th-May 20th:
Self-Paced Reiki I Training Videos: Learn standard Reiki 1 topics, including an intro to Reiki, Reiki history, Reiki Precepts/Principles, the chakra energy system, hand positions, how to prepare for Reiki attunements, and the 21-day cleanse with 3.5 hours of self-paced video instruction.

May 21st, 1:00 PM-3:00 PM EST
Discussion and Attunements: Discuss the Reiki I training videos with conversation and Q&A and receive the Level 1 attunement. You are now a Reiki practitioner.

June 11th, 1:00 PM-3:00 PM EST
Post-21 Day Cleanse Discussion: Post-attunement, you will engage in 21 days of self-practice. This is often a time of rapid growth that brings up many feelings, experiences, and questions. Our final session will be a supportive opportunity to share, discuss, and ask questions.
Unsure of the time in your area? Use this
time converter
. EST is New York time.
Here's What You Receive:
Training in the most important Reiki foundational teachings
Methods of self-healing for all kinds of physical, mental, and emotional challenges
Attunement to Level 1: This is for life! Attunements are needed only once, and you will never need to be attuned to Level 1 again!
Recordings of class sessions to watch again and again.

Certificate indicating Usui Shiki Ryoho Level 1 obtainment and your Reiki lineage family tree
Starting your Reiki journey with a solid foundation from which to expand, bloom, and grow

​

Reiki I Manual with information on Level 1 teachings, Self-Reiki Journal to record your experiences, and the Reiki Kit and Life Change Encouragement Kit...if you don't have these free kits already
Bonus!
This Reiki 1 class session also includes free access to the self-paced
Back to Center
program to help you transition to the new year with power and purpose. You'll get this powerful program full of reflections, rituals, and releasing automatically with your Reiki 1 registration. It's a great way to prepare for Reiki 1! Check your e-mail receipt for access.
Reiki I is for You If...
You're intuitively drawn or attracted to Reiki, even if you don't know why
You want to establish or strengthen the connection with your intuition, higher self, and universal life force energy
You're a spiritual seeker searching for an empowering and nourishing life-long spiritual practice
You're dealing with pain, anxiety, depression, or any other kind of mental, emotional, or physical challenges and want to help heal yourself
You're a highly sensitive person needing techniques to protect yourself from absorbing the energy of others
You are challenged with putting yourself first, taking care of yourself, or setting boundaries
You're often feeling depleted, overwhelmed, and tired
You're interested in personal growth and development and living a life of greater awareness, meaning, and connection
You're feeling stuck and wanting to move forward
You want to learn about and practice alternative healing methods
You want the live interaction and 1-on-1 attention, but with the comfort and convenience of an online program you can take from home
You want more support and a stronger foundation than most Reiki Level I classes provide and want to learn from an experienced, kind, supportive, and understanding Reiki Master Teacher
If any of these resonate with you, you are indeed ready to heal, grow, and bloom!
​
Is this you?
About Christian
Greetings, and welcome! I'm Christian of Standing Stones Healing, and I don't take being a Master Teacher lightly. It's my most important role, and I am dedicated to your growth, healing, and blooming. I am passionate about Reiki and excited to have you here. My Reiki journey started in 2014 when I earned Reiki levels I, II, and III at Mount Wachusett Community College in Massachusetts with two Master Teachers, Debbie Gould and Diane King. Since then, I have increasingly deepened my connection with Reiki, practiced self-Reiki, Reiki on others, Reiki on spaces, Reiki on plants, food, and etc., and Reiki has become a way of life for me. Through Reiki, I have also deepened my intuitive powers, and my compassion, kindness, and respect for all beings. I know what it means to heal, bloom, and grow through Reiki. This is the power of Reiki.
In addition to owning and operating Standing Stones Healing offering unique Reiki sessions, I am also administrator of the
Reiki Learning Group
, founder of the
Reiki Business Collective
, offer the free
Reiki Kit
and Reiki 101 informational workshop, which include numerous Reiki I teachings, and am a mentor to other Reiki Masters. I live Reiki daily, and these topics are deeply ingrained and are second nature. I am honored to offer Reiki I training, and I would be honored to call you my student and my teacher.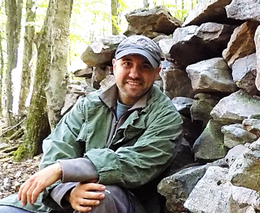 Thank you for being here. I hope you'll join me for this incredible journey. Please reach out to me with any questions. Sending blessings and best wishes for your healing, growth, and blossoming!


​Christian

P.S. My Reiki I training is much more in-depth, comprehensive, and supportive than most Reiki I trainings, including the Level 1 training I received in 2014. Yes, you'll know way more after this Reiki I training than I did after mine!
Space is extremely limited!
​Join this unique, in-depth Reiki 1 class with
​an internationally known and respected Reiki Master for only $230!
Frequently Asked Questions
1. What are the pre-requisites for Reiki I?
There are no pre-requisites for Reiki I. As the foundational Reiki course, you don't need anything to start except to have an open mind and heart and a willingness to learn. Anyone can learn Reiki, and there is no special knowledge, skill, or ability that you need. There is nothing you need to do to prepare. Come as you are. You are accepted here.
If you haven't already, I do encourage you to get my free
Reiki Kit
, which contains a Reiki Learning Guide, Reiki FAQ, and recording of my free Reiki 101 workshop. Many of these topics are covered in Reiki I, and if you use the Kit before the training, you can go deeper and grow stronger.
​
2. Do I have to attend all of the sessions?
The Reiki I training and attunement is essential to successful completion of the mentorship, and you cannot be attuned to Reiki without participating in the attunements. Remember, Reiki I is all about you, and participating in a comprehensive program like this will help to enrich your experience and deepen your foundation. Plus, Reiki I is a life-long training, and you never have to take it again. The training videos are self-paced, and each live session lasts no more than 2 hours. Learning Reiki 1 is a commitment to your own healing, blooming, and growing. Will you commit to yourself and attend all sessions?
3. When do trainings take place?
May 7, May 21, and June 11 are the live training dates. While attendance for all dates is strongly encouraged, you must absolutely attend on May 21 for the attunements and discussion. If you have other conflicts, please reach out to me and let's discuss it. Thank you!
4. I can get Reiki I attunement from a YouTube video. Why does this program cost so much?
Thank you for this question. Yes, you can receive attunements and training from YouTube videos, low-cost online courses, and quick workshops, but faster and cheaper do not mean better. This training and the attunement are for life, and you never need them again, which means that you never have to pay for them again. The average cost of Reiki I is $125-$250, but it's usually a one day training with no preparation for attunements and is typically only a few hours long. The standard Reiki I training practically never includes a Reiki session or follow up meeting after the 21-day cleanse. This is a comprehensive 9+ hour training with an unheard of level of support that gives you a solid Reiki foundation, including lifetime access to support from your Master Teacher.
I've worked hard to make this program as cost-effective as possible while delivering high quality.
Get all of this for only
$230
. This is an
incredible
price for the value on one of the most comprehensive Reiki 1 trainings available anywhere in the world.
Not only are you receiving the attunement for life, you're also receiving support from a knowledgeable and experienced Master Teacher...who you can contact with questions at any time long after the program. Some programs, especially free and lower cost ones, leave you with lots of questions and a lack of support during what is often a life-changing experience. As administrator of the Reiki Learning Group, I have gotten many questions over the years from people recently attuned to Level I who experience emotions, reactions, and experiences that concern them. With no teacher to turn to, they turn to the Reiki Learning Group. But new Reiki practitioners deserve support from their Master Teachers. You deserve support from your Master Teacher.
5. What about Level II or III? I want to be a Master!
Reiki I and II are often taught together in the same weekend workshop. While there is nothing wrong with this method, I encourage taking all three levels separately in order to allow the energies and teachings to integrate. In this way, students can take their time with each level, understand and embody the teachings, practice Reiki, and heal, grow, and bloom. Reiki is a life-long process, and there is no rush to learn all levels at once.
I especially believe that Reiki I is the most important level and is best taught by itself, including to allow for the 21-day cleanse before taking Level II. I also advocate studying with different Master Teachers, as all have their own methods and teachings, which will allow you to have a fuller experience. Reiki is a potentially life-changing experience. You deserve to learn in a way that honors that.
6. What is an attunement? What is going to happen?
In Reiki, you are energetically opened, or "attuned" to the universal life force energy, and this is passed down from Master to student. You can almost think of it like the tuning of a musical instrument. This ritual is a meditative experience for the student in which you sit quietly. Attunements can be done in person, live online, recorded, or transmitted, but can never happen without the student's permission. Our class attunements will be done live over Zoom in which you sit quietly. Learn more about attunements in the Reiki 101 workshop recording in the free
Reiki Kit
.
7. I'm nervous. Am I really a good fit? Can I do this? Will I mess it up?
It's natural and normal to be nervous any time we start something new, and Reiki is no exception. But yes, you really can do this, and yes, you really are a good fit. There is no reason why you wouldn't be. You are here reading this for a reason, and that is no accident. You have been called to this page, called to this training, called to start your Reiki journey. Honor that divine calling. You can't mess it up, and I'm here to support you. I believe in you, and you can do this. You
are
ready to heal, grow, and bloom.
8. I've just paid for the training! What happens next?
Congratulations and welcome! I'm so excited and honored to be your Teacher. Check your receipt to check out the Back to Center program to help you transition to the new year...and even prepare for Reiki 1! I will reach out to you personally with an e-mail confirmation of your Reiki 1 registration. Please be watching your inbox...and check your spam folder in case you don't see a message from me. Thank you for joining! I can't wait to see you soon!
Don't wait! Space is Limited!

Thank you! Blessings for your Reiki journey!