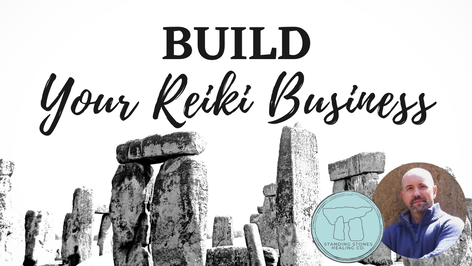 Ready to build the
​Reiki business of your dreams?
You're a Reiki practitioner...

​And you dream of starting your own Reiki business to share the power of Reiki with others, to help and serve. You want to ditch the drudgery of your 9-5, be your own boss, and create a business on your terms.

But how?

Sound familiar?
When you think of starting a Reiki business, you feel confused.

Overwhelmed.

Doubtful that you can do it.

You have lots of great ideas, desire, and passion, but just don't know how to start.

You've tried learning about the process, but got frustrated and quit.

You just want someone to tell you what to do and how to do it...



Starting a Reiki business...

It can seem mysterious, scary, confusing, and secretive. What do you do? How do you do it? How do you even get started?

But the good news is...the answers are all here.

You, too, can start your own Reiki business.

I'll show you exactly how.
Join us for Build Your Reiki Business!
I'm Christian of Standing Stones Healing, and w

hen I officially started my Reiki business, I needed this kind of program. I don't know about you, but I had no clue how to start a business (or what that even meant), what it involved, how to do taxes, how to budget, how to set up a website, or even how to use social media...yes, really. I say "officially" because, like many Reiki practitioners, I had a business before I officially had a business. I'll explain what I mean in the program.
I knew I was passionate about Reiki and I knew I wanted to help others with Reiki...other than that, I had no clue where to start or what to do. This just might be you right now, too.

​But after hundreds of hours of research, learning, trial and error and figuring these things out by myself and after years of being a Reiki business owner and thinking someone needs to create this program, I guess I am the someone to create the program I needed...the program you need, too. I founded the Reiki Business Collective for the same reason...the space wasn't there for Reiki business owners to gather and support one another, and there was a true need for it. This course is another true need, and I'm honored to offer it.
​
Being a Reiki business owner is an incredible dream and a true honor that I am grateful for everyday.
​You, too, can start your own Reiki business. I can show you how.