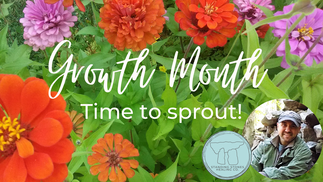 Are you ready to grow?
Greetings and welcome! I'm Christian of Standing Stones Healing, and here where I am in the eastern United States, spring is springing! My daffodils are poking up through the grass, the cardinal's song has changed, and there is rabbit poop all over my yard!

The earth is definitely in transition. Newness is ready to sprout.

Are you?
Transitions are transformative!
As our blessed earth transitions from one season to the next, so, too, can we take inspiration from Mother Nature and emerge from winter with new growth, new blossoms, a newfound sense of power and purpose.

Transitions are powerful times, both for the earth and for us. We can capitalize on these changes to foster change in our own lives, to sow seeds of change and plant not only literal seeds, but figurative ones, as well...seeds of hope, abundance, happiness, confidence, love, gratitude...seeds of transformation.
T
Ready to transform?
As the seasons turn, you prepare for the next one...you put away your heavy coats and sweaters, get out the rake, start your spring projects, make way for the new. You go through the motions of cleaning and clearing out winter to prepare for spring.

But how often do you make way for the new in your own life? As you change your outer clothes, how often do you change your inner ones? Are you your biggest spring project?

Every year the earth is reborn after a long winter. It's been a long winter. Let's follow the earth's lead.
Join us for Growth Month!