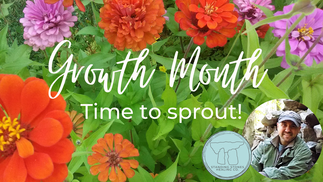 Are you ready to make change, but aren't sure how?
Feel like you're stuck and challenged to move forward?
Is there some newness you want to bring into your life and need inspiration and encouragement to make it happen?
I'm Christian of Standing Stones Healing, and if you're like me, you love the transition from winter to spring. It's a time of hope and excitement as the earth sprouts and grows. The weather warms, our hope blossoms, and we anticipate all of the renewed activity of the season.
But with all of the outward focus on the earth's changes,
we too often don't focus on the inward changes that we can be making
.

Now is a time to change all of that.

Now is a time to take inspiration from the earth to awaken after a long winter, to focus inward and take inspired action, to use this season of rebirth and renewal as an opportunity to grow...in whatever way that means to you.
Ready to make change?
Feel like you're going in circles?
Want to bring newness into your life?
​Looking for inspiration and encouragement?
​
Are you ready to grow?
Join us for Growth Month!
Growth Month is a 4-week program of growth and transformation taking inspiration from the season to foster change in our own lives. Discover how to grow, how to make changes, and how to transform.

Through weekly live 1 hour Zoom sessions, powerful self-paced training videos, and purposeful workbook activities, we'll plant seeds of growth in our own lives, water those seeds, and create plans to help them sprout.

​Experience empowering discussions with Christian and classmates. Watch recorded videos full of encouragement, activities, and reflections. Deepen your journey with the Growth Month workbook.


Transitions are transformative!
As our blessed earth transitions from one season to the next, so, too, can we take inspiration from Mother Nature and emerge from winter with new growth, new blossoms, a newfound sense of power and purpose.

Transitions are powerful times, both for the earth and for us. We can capitalize on these changes to foster change in our own lives, to sow seeds of change and plant not only literal seeds, but figurative ones, as well...seeds of hope, abundance, happiness, confidence, love, gratitude...seeds of transformation.
T
Ready to transform?
As the seasons turn, you prepare for the next one...you put away your heavy coats and sweaters, get out the rake, start your spring projects, make way for the new. You go through the motions of cleaning and clearing out winter to prepare for spring.

But how often do you make way for the new in your own life? As you change your outer clothes, how often do you change your inner ones? Are you your biggest spring project?

Every year the earth is reborn after a long winter. It's been a long winter. Let's follow the earth's lead.
Growth Month is here!
​It's time to sprout!