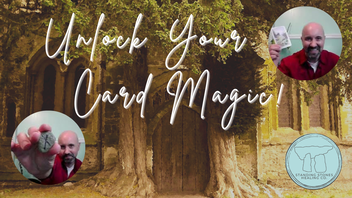 Ready to unlock the magic of the cards?
Tarot cards, oracle cards, angel cards, fairy cards, chakra cards, runes,...

​Card reading is magical. With so much possibility for growth, healing, and exploration, it's a powerful practice for transformation. Seeking assistance for life's challenging questions through cards, stones, and symbols has been used for thousands of years to gain clarity, new perspectives, and direction.

But as a mystical practice, its powers can seem locked away in a box that only the gifted can access.
Unlocking Your Card Magic
When you think of card reading, do you feel confused?

Overwhelmed?

Doubtful that you can do it?

Do you have a deck lying around that you've been wanting to use, but just don't know how to start?

Have you tried to read, but got frustrated and quit?

Or have you been reading for yourself, but want to read for others, too?

Do you possibly even dream of getting paid to read cards?


Card reading can seem mysterious, challenging, and secretive. It can seem like the answers lie hidden and locked away.

But the good news is...you hold the key.

You, too, can unlock the magic of the cards. You, too, have your own card reading magic.

Ready to unlock your card reading magic?
Join us for Unlock Your Card Magic!
I'm Christian of Standing Stones Healing, and after 10 years of reading cards for myself and hundreds of others, I can tell you that no matter what kind of cards we use, card reading is magical. One reading can unlock a wealth of insight. One reading can transform how we view our experience. One reading can provide the priceless shift in our thinking that unlocks new possibilities.

​And I can also tell you that you have the power to seek insight from the cards. You have the ability to send messages to yourself and others. You, too, can offer accurate, encouraging, and empowering readings to help yourself and others heal, grow, and even transform.
​
Card reading is a timeless practice that anyone can access...for themselves, friends, family, and clients.
​Your card reading magic is waiting to be unlocked. I can show you how.