Menu of Free Offerings for Your Encouragement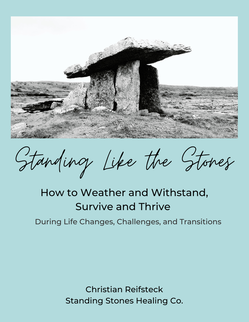 Life Change Encouragement Kit
This incredible kit offers encouragement for all of your life changes, challenges, and transitions. It includes my 70-page full color book,
Standing Like the Stones
, my 20-minute
Life Change Meditation
, and a 10-minute
Affirmations with Native American Style Flute
recording, a collaborative project with Isabel Wells of
Into the Deep
.
​
Live Distant Reiki Healing Ceremonies on Facebook
I offer FREE LIVE Distant Reiki Healing Ceremonies on
Facebook
on or around the new and full moons. Connect with me to participate live or watch the replay on YouTube. Want to experience a Distant Reiki Healing Ceremony right now? Check out the Distant Reiki Healing Ceremony playlist on the
YouTube channel
, where Facebook live ceremonies are uploaded and available for viewing.
The best way to get notifications of upcoming ceremonies is to join the Standing Stones Healing Co. community by getting on the mailing list.
Monthly Card Readings
Subscribe to the Standing Stones Healing Co.
YouTube channel
for monthly choose 1 of 3 card readings. At the beginning of each month, you can choose number 1, 2, or 3 with a corresponding Untethered Spread reading for your monthly messages.
The YouTube channel also includes Reiki, Native American style flute music, meditations, and videos on spiritual topics.
---
Ask the Stones
Ask the Stones is a weekly series of spiritual guidance and encouragement in answer to life's challenging questions on Standing Stones Healing Co.
YouTube channel
. No question is off limits: topics range from various life change experiences to spiritual questions. Looking for a new perspective on a challenge? Currently in transition or considering a life change? Have questions about a spiritual topic? Get free guidance by submitting your question on Facebook or to
christian@standingstoneshealing.com
. All names are changed, and your anonymity is assured.
Music and Meditations
The Standing Stones Healing YouTube channel offers music and meditations, including Native American style flute and babbling brook for your relaxation.
Encouraging Your Journey
Looking for encouragement? Wanting to encourage others? Join the tribe of encouragers in the Encouraging Your Journey Facebook group.