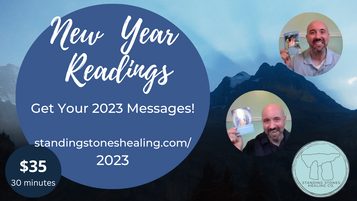 Get Your 2023 Messages!
The transition from one year to the next is an excellent time to reflect, vision, say goodbye to the old year and welcome in the new.

It's also the time for your yearly card reading! In this 30-minute 5 card reading, you'll get insights for the year ahead. Discover the major themes, areas for growth and healing, and points of reflection for your 2023.
​
What do you need to know for 2023?
30 minute 5 card readings
​for your 2023 messages!
I'm going live on Zoom on several special days in January with unique card readings for your 2023 messages at a special price!
​
Get your own 30 minute 2023 card reading at a special $35 price!
Limited dates available.
Only one weekend left!
​How does it work?
1. These readings are only being offered on special dates. Click the buttons above to select an individual date on Calendly. Click on the day when you would like to schedule your 30 minute 2023 reading. Time slots are in 30 minute increments and displayed in your time zone. Select your time slot, schedule, and pay $35 for your reading all in a few easy clicks. Get excited for your 2023 messages! In the meantime, you may also be interested in checking out the self-paced
Back to Center
program to transition to 2023 with power and purpose.
2. Check your e-mail for the Calendly appointment confirmation. Calendly adjusts to your time zone and the time you select will be for your time zone. The Zoom link for your reading is in the Location section of the appointment details. You'll also get a reminder e-mail 24 hours before your time, and you can get a text reminder if you want, too.
​
3. At your reading time (or a minute or two before), click on the Zoom link under Location in the Calendly e-mails. Please arrive on time to avoid backups. I'll let you into the Zoom room, pull your cards, and offer you 2023 messages in a powerful reading. Get insights, new perspectives, and points of reflection. It's fun, entertaining, empowering, and enlightening! By the way, you're welcome to record the reading to listen to later. Recording the audio on your phone works best.
Please note:
Because of limited availability, no refunds will be given for these special readings, including for no shows, cancellations, arriving too late to do a reading, or arriving outside of your scheduled time. Your reading will only be offered at your scheduled time. Readings last approximately 30 minutes, but may be shorter. As always, I am obligated to state that readings are for entertainment purposes only. I can't wait to see you and offer you messages for 2023. Thank you!
If you're looking for a powerful reading for your 2023 messages,
​don't miss this special offer!

These unique 5 card readings offer layers of meaning. This is the same reading used in my monthly Choose 1 of 3 Card Readings on the Standing Stones Healing YouTube channel. Only now all of the messages are for you for your 2023!

See these cards in action in the January Choose 1 of 3 reading. These are the kinds of messages you can expect for your individual 30 minute reading. Find out what's in store for your 2023...



​Will you get your own intuitive 2023 card reading
​for a special price of only $35?
Only one weekend left to book your reading!

I am so grateful to you for your reading. Everything that you mentioned rang true, and actually helped me to get more clarity on my current situation.
Thank you Christian for the card reading today! I learned lots and it explained alot about what was going on in my life. You are so easy to talk with. Looking forward to another reading in the future. Thumbs up!
Fantastic card reader whom I absolutely recommend. Christian is a master at his craft and his delivery is presented as a warm, gentle embrace that brings comfort and joy. He is a true gift to all!
​
​Hurry!
​Book now before all slots are gone!

​
​Questions? Feel free to reach out!
​christian@standingstoneshealing.com or message me on Facebook
Looking forward to seeing you in January. Thanks, and blessings!
Transition to 2023 with Power and Purpose!
Want to start the new year right?
Join my self-paced video program
Back to Center
to help you say goodbye to 2022 and welcome in 2023. Full of activities, rituals, reflections, and releasing, it's a powerful way to end one year and start the next...for only $33! Get your 2023 messages, this 4-week program, and everything you need for your yearly transition for only $68! Amazing deal!